Here's a new cranberry sauce recipe to try for your holiday dinner:  Sherry Triple Berry Cranberry Sauce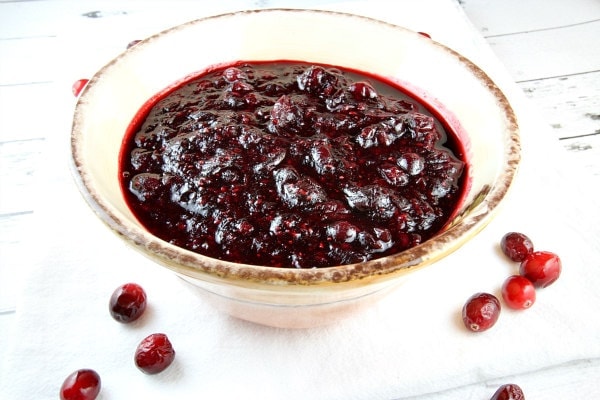 This cranberry sauce recipe has three types of berries in it:  blueberries, raspberries and cranberries.  The mix of all three of them simmered down into a beautiful sauce was the most delicious idea ever.  Three sweet- tart tastes all in one.  The flavor of the sauce has been enhanced by the addition of sherry cooking wine.  You won't find an overwhelmingly strong sherry flavor in this cranberry sauce- it just gives the sauce a flavor boost.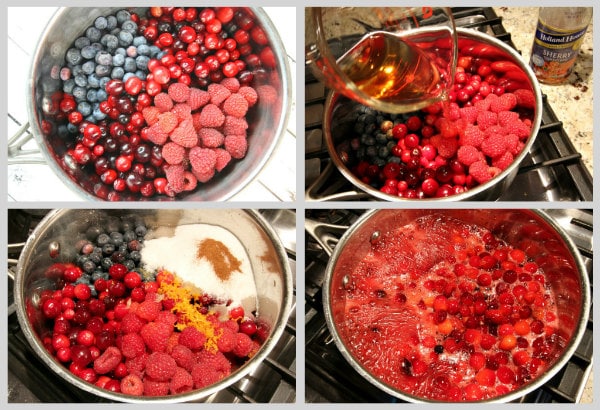 This homemade cranberry sauce recipe takes all of about 15 minutes total to make.  The berries are combined in a saucepan, sherry is poured on top.  Sugar, orange zest, orange juice, water and cinnamon are added last.
Cranberry sauce is so easy to make… just simmer on the stove until the berries break down and the sauce begins to thicken.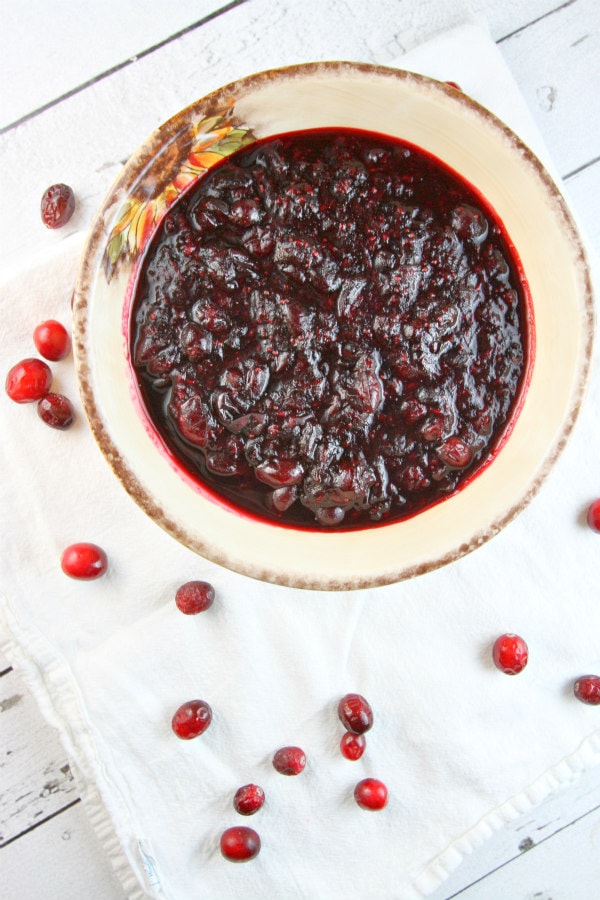 When I met my husband, I remember him telling me how much he loved cranberry sauce (the gelatinous blob from the can, of course).  For many years, he wouldn't be adventurous enough to eat my homemade cranberry sauce.  "Too chunky," he complained.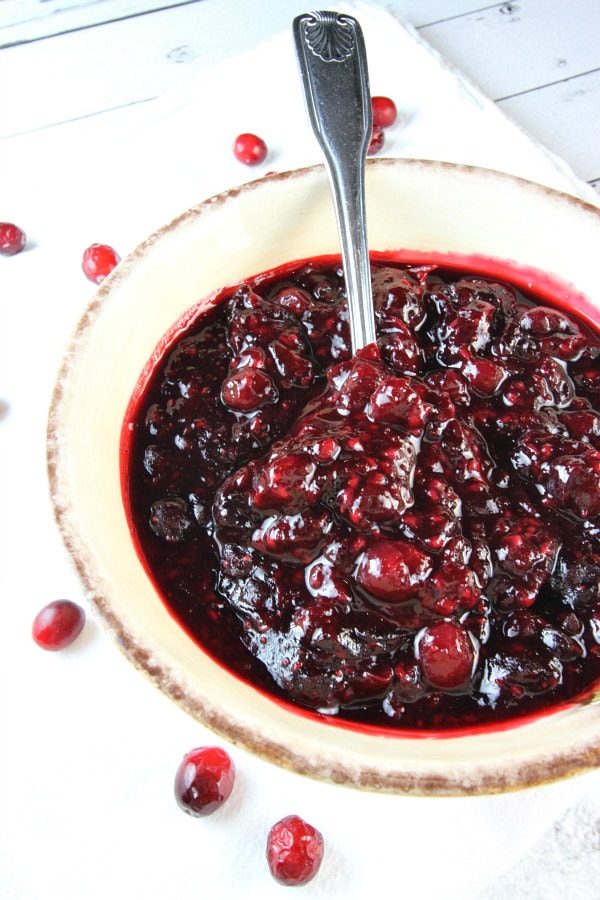 Fortunately, he has gotten over that silliness.  Homemade cranberry sauce doesn't last more than a day or two in my house now!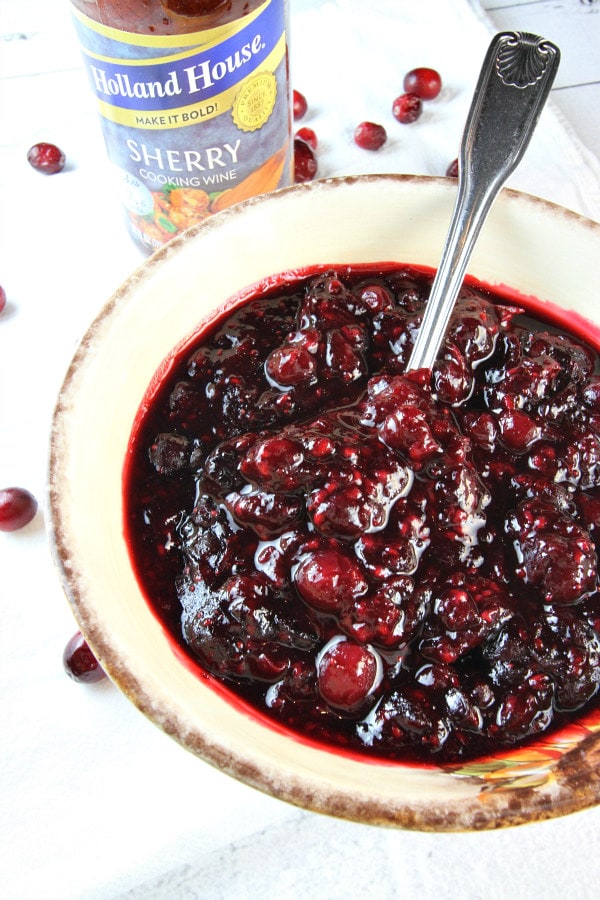 The addition of sherry adds robust flavor to this sauce.  The Holland House Cooking Wines are all ideal for cooking.  There is 1 teaspoon of salt per cup in their cooking wines to make it stable for long shelf life in your pantry (so if there is salt called for in your recipe, you can reduce the amount of added salt in your recipe).  Most table wines will cook away during the cooking process.  The rich flavor of Holland House Cooking Wines makes them ideal for standing the heat during the cooking process and allowing the flavor of the wines to shine through.
This is a great recipe to make for Thanksgiving or Christmas.  Let me know if you try it, and use it up in turkey sandwich leftovers!
Sherry Triple Berry Cranberry Sauce
This recipe may be prepared a couple of days ahead of serving time.  Leftovers are excellent too!
Yield:
About 3 cups
Prep Time: 10 minutes
Cook Time: 10 minutes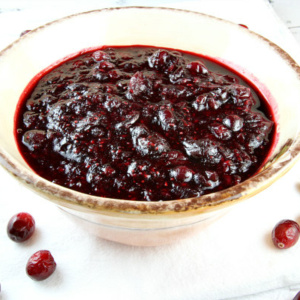 Ingredients:

One 12-ounce bag cranberries
One 4.4-ounce container blueberries (about 3/4 cup)
One 6-ounce container raspberries (about 1 cup)
3/4 cup granulated white sugar
1/2 cup sherry cooking wine
1/2 cup water
1 teaspoon orange zest
One medium orange, juiced
1/8 teaspoon cinnamon

Instructions:

Combine the cranberries, blueberries and raspberries in a medium saucepan.  Add in the sugar, sherry, water, orange zest, orange juice and cinnamon; stir to combine, then bring to a boil over medium-high heat.
Reduce heat to simmer (low) and continue to cook until the berries begin to burst and break-down and the sauce begins to thicken.  Let cool.  Keep refrigerated until ready to serve.

Nutrition:

There are 4 Weight Watchers Freestyle SmartPoints a 1/4 cup serving of this sauce.
SOURCE:  RecipeGirl.com
Here are a few more Cranberry Sauce recipes you might enjoy:
Disclosure:  This recipe was created in partnership with Holland House Cooking Wines.  I only write about products that I already use in my kitchen- and this is one of them!  RecipeGirl.com maintains full editorial control of the content published on this site. As always, all thoughts, opinions, and enthusiasm for products are entirely my own.