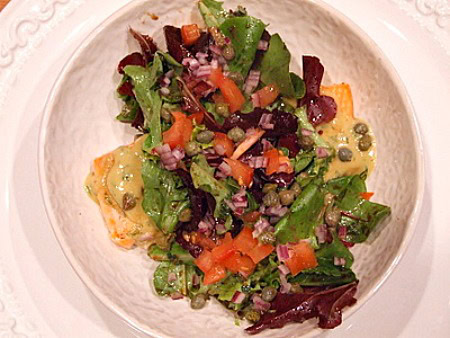 Mustard- Dill Salmon Salad with Balsamic Vinaigrette
Yield:
4 servings
Prep Time: 30 min
Cook Time: 15 min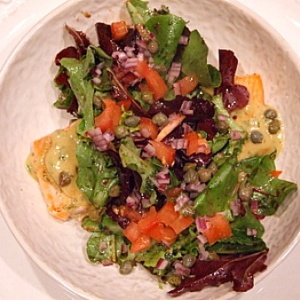 Ingredients:

MUSTARD DILL SAUCE:
3/4 cup Dijon mustard
3 tablespoons granulated white sugar
2 tablespoons fresh dill, chopped
2 tablespoons olive oil
salt and pepper to taste

VINAIGRETTE:
1/4 cup balsamic vinegar
1/2 teaspoon Dijon mustard
1/2 teaspoon granulated white sugar
1/2 teaspoon minced shallot
1/4 teaspoon minced garlic
1/4 cup olive oil
salt and pepper
1 teaspoon fresh basil, chopped
1 teaspoon fresh thyme, chopped
1 teaspoon fresh parsley, chopped

SALAD:
4 filets salmon (about 1 1/2 pounds)
4 big handfuls of baby lettuces
4 tablespoons capers
4 tablespoons finely diced red onion
4 tablespoons seeded and finely diced tomato

Instructions:

1. Preheat oven to 400°F.

2. Combine ingredients for Mustard Dill Sauce and whisk together well. Season with salt and pepper; refrigerate until ready to use.

3. In a separate bowl, combine vinegar, dijon, sugar, shallot and garlic; mix well. While mixing, slowly add olive oil. Season with salt and pepper, and mix in the fresh herbs. Cover and set aside until ready to use.

4. Rinse and dry salmon fillets. Place in pan sprayed with nonstick spray, or in a foil-made pan. Drizzle salmon with 4 tablespoons mustard sauce. Bake 15-20 minutes, or until cooked through.

5. In a large bowl, toss lettuce with vinaigrette. Use just enough vinaigrette to coat the lettuce with dressing.

6. Assemble salads. Place salmon fillet in each of 4 bowls. Drizzle mustard sauce on each fillet. Place lettuce on top of salmon. Sprinkle capers, onion and tomato over salad and serve.

Tips:

*If you are preparing this recipe as Gluten-free, just be sure to use a brand of Dijon that is known to be GF.