This recipe has been featured in a how-to post on The Recipe Girl blog: Oven-Roasted Mushroom Soup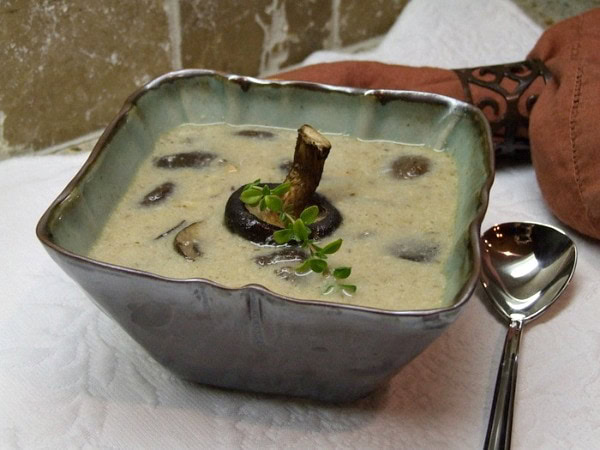 Oven- Roasted Mushroom Soup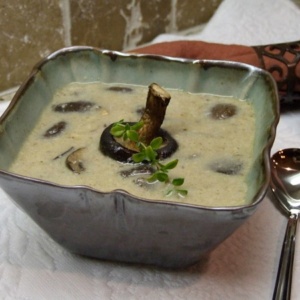 We're mushroom lovers, so we love the chunks of mushrooms in the soup. It's a really unique way to prepare it too.
Yield:
4 servings
Prep Time: 40 min
Cook Time: 50 min
Ingredients:
1/3 cup extra- virgin olive oil
1 1/2 pounds shiitake mushrooms (stems discarded are caps roughly chopped into large pieces)
4 whole shiitake mushrooms (leave 4 of them whole- see TIPS below), optional
1 1/2 pounds cremini mushrooms (stems discarded and caps roughly chopped into large pieces)
3/4 teaspoon salt
3/4 teaspoon freshly ground black pepper
1/2 cup very finely chopped shallots
3/4 cup white wine
3 cups low-sodium chicken broth
2 cups water
1 1/2 teaspoons chopped fresh thyme leaves
2 tablespoons heavy whipping cream
1 tablespoon freshly squeezed lemon juice
Directions:
1. Preheat oven to 400°F. Place rack on lowest shelf in the oven and make sure you'll have enough room to place your roasting pan on that rack.
2. Roast the mushrooms: Place mushrooms in a large nonstick roasting pan (about 16x13-inch- I used my turkey roasting pan). Drizzle olive oil on top and toss until mushrooms are coated. Sprinkle with salt and pepper. Roast on lowest shelf in the oven for 20 minutes. Remove from oven and add the shallots; stir to combine. Return the pan to the oven and continue roasting for 10 more minutes.
3. Make the soup: Remove the roasting pan from the oven (Remove the 4 whole shiitakes and set aside). Pour the wine into the roasting pan; stir. Add the chicken broth, 2 cups of water, and thyme leaves. Return the pan to the oven and let cook, simmering, for about 20 more minutes. Remove pan from the oven and transfer its contents to a large serving bowl.
4. Remove a couple of large ladlefuls of the soup to a separate bowl. Use an immersion blender to puree the amount that was scooped out (or puree in a blender).
5. Stir the puree, cream, and lemon juice into the large serving bowl. Season with salt and pepper.
6. Serve hot, topped with reserved whole shiitakes for garnish.
Tips:
*If you are preparing this soup as gluten-free, just be sure to use a brand of broth that is known to be GF.
*Leave four of the shiitake mushrooms whole and throw them in with the rest of the bunch to roast. They'll make a nice garnish for each of the four bowls of soup.