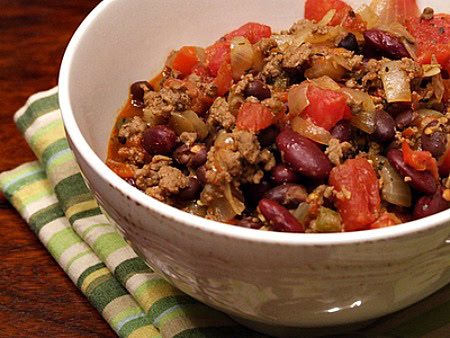 Beef and Bean Chili

Yield: 8 servings

Prep Time: 30 min

Cook Time: 1 hour 15 min

Ingredients:

2 tablespoons extra- virgin olive oil
2 large sweet onions, diced
2 large red bell peppers, cored, seeded & diced
4 small jalapeño peppers, cored, seeded & minced finely
4 medium cloves garlic, minced
1 1/2 pounds ground sirloin
1/4 cup chili powder
2 teaspoons dried basil
1 tablespoon ground cumin
1/4 cup worcestershire sauce
One 28-ounce can chopped tomatoes
2 tablespoons tomato paste
4 cups chicken or beef broth
One 15-ounce can black beans, rinsed and drained
One 15-ounce can kidney beans, rinsed and drained
3 whole bay leaves
1 tablespoon sea salt
1 tablespoon freshly ground black pepper
1 teaspoon crushed red pepper flakes

Directions:

1. Heat olive oil in a large saucepan over medium heat. Add the onions, reduce the heat to low and cook, stirring occasionally, until they have softened and become light brown (about 15 minutes). Add the bell peppers and jalapeños and cook, stirring occasionally, about 5 minutes longer. Add the garlic and cook, stirring constantly, for about 1 minute, being careful not to let it brown.

2. Increase heat to medium-high. Add ground sirloin, chili powder, basil, and cumin; cook until beef is brown all over (5 to 7 minutes). Break beef into small pieces as it cooks. Drain off excess fat. Stir in worcestershire sauce, tomatoes and their juices, tomato paste, broth, beans, bay leaves, salt, pepper and crushed red pepper; bring to a low boil. Reduce heat to low; simmer for 45 to 1 hour so that the flavors meld and the liquid reduces a bit and thickens slightly.

3. Serve warm. Top with shredded cheese and sour cream, if desired.

Tips:

*This recipe is gluten-free adaptable- just be sure to use GF brands of broth, beans and worcestershire sauce.
*Be sure to wear gloves when you are cutting the jalapenos. If not, you will need to wash your hands thoroughly (several times) to rid your fingers of the "spice."
*To drain off excess fat from the meat, I like to tip the pan and let the grease puddle in one spot. Take a bunch of paper towels and let them soak up the fat. Discard paper towels.
*This chili will keep in an airtight container for up to 3 days. It also freezes well.