There are a lot of really great flavors happening in this Texas Chili recipe: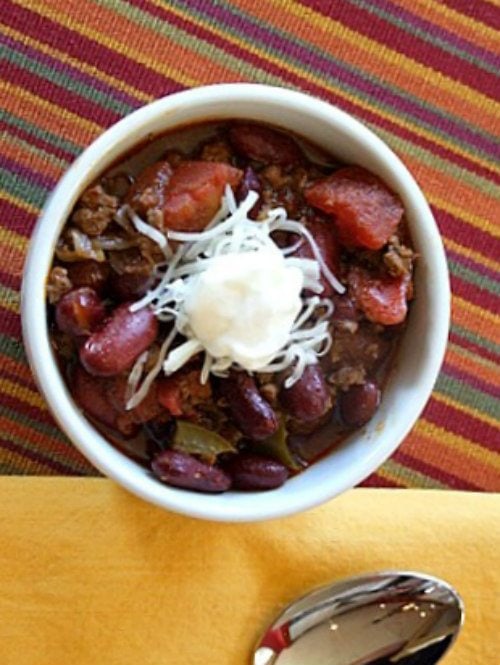 Texas Chili
Yield:
12 to 15 servings
Prep Time: 30 minutes + soak time
Cook Time: 1 hour and 15 minutes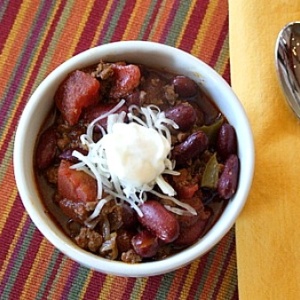 Ingredients:

1 pound dried kidney beans
3 pounds ground beef
One 28-ounce can chopped tomatoes, with juice
1 large sweet onion, chopped and browned
1 cup red wine
1 medium green bell pepper, seeded and diced
3 tablespoons chili powder
1 teaspoon cayenne pepper
2 teaspoons ground cumin seed
1/4 teaspoon oregano
1 teaspoon tabasco sauce
2 small jalapeños, seeded and finely chopped
salt and pepper to taste
2 teaspoons packed light brown sugar
1/3 cup golden raisins (optional)

Instructions:

Soak the beans in water for 24 hours. Change the water after 12 hours.
In a large sauté pan, brown the meat and onions over medium heat. Drain the fat.
Add the spices to the meat and mix well.
In a large pot, pour in the jalapeños, tomatoes and wine. Add the meat mixture and stir to combine. Cook over low heat for 1 hour. Stir in the brown sugar. Add the beans, and cook until tender. Add the raisins, if desired.
SOURCE: RecipeGirl.com