Introducing a Beef and Bean Chili recipe that will keep you warm and cozy and FULL!
Below you'll see a photo of all the things needed to make this big pot of Beef and Bean Chili. I was a little worried about the heat in this chili as we generally do not care for real spicy food: 1/4 cup chili powder, 4 jalapenos (I used two large ones), and 2 teaspoons red pepper flakes. Yikes! Not to worry though… it all turns out okay!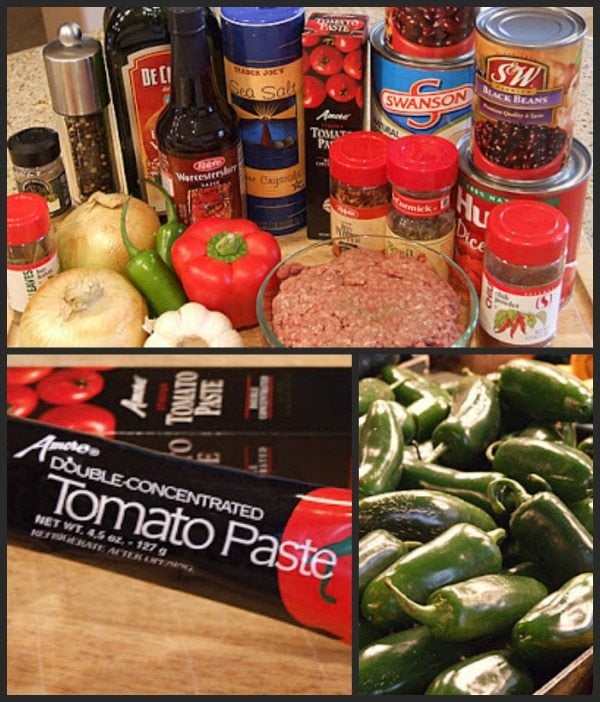 One of the greatest food inventions known to have been invented: Tomato Paste in a TUBE! You know the scenario… you only need a Tablespoon or two and you have to open a full can. What do you do with the rest? If you keep it in the fridge, it will start to grow mold. You could put it in the freezer, but then you have a big frozen chunk of tomato paste! With the tube, you just squeeze out what you need and then store the tube in the refrigerator… genius! It's sometimes difficult to find but if you have a well-stocked grocery store, they just might carry it.
If you've never chopped jalapenos, there are some things to consider… like plastic gloves. Your skin absorbs the sweltering hot, spicy juice in the peppers and can be dangerous to you. Even if you wash your hands well after chopping, your skin will still have the spice on it. Be very careful not to get your hands near your eyes (or your children's) or you'll be rushing to the sink to splash water on your eyes. Remove the seeds in the peppers for your recipe. The seeds add a good deal more heat than you will likely want.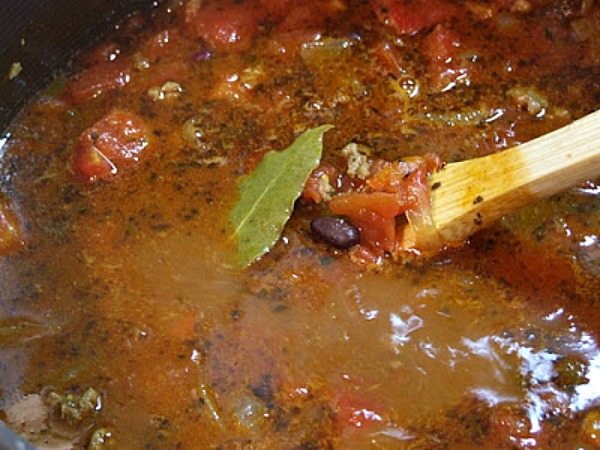 This is a no-brainer chili to make. The veggies are chopped and then sauteed together. Brown the beef, dump in the rest; boil and then simmer for an hour. The original recipe calls for 6 cups of chicken broth, which I felt made the chili a bit soupy (as the picture shows), so I modified it to include 4 cups.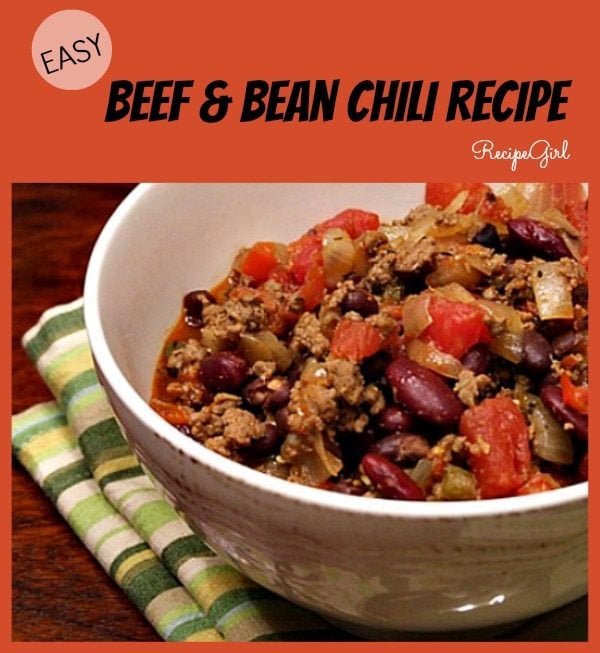 The finished product… a good, chunky, hearty Beef and Bean Chili recipe. Perfect for a "chilly" day (pun intended). Oh yeah, and the spice… just enough to add a slight spicy after-taste, but definitely not a packed-with-heat chili, so add more spice to it if you like it HOT. To garnish, sprinkle some shredded cheese and a dollop of sour cream.
Beef and Bean Chili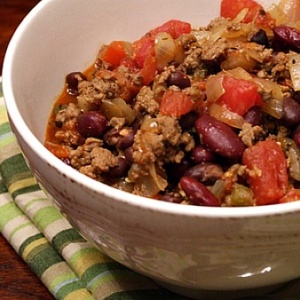 Yield:
8 servings
Prep Time: 30 minutes
Cook Time: 1 hour and 15 minutes
Ingredients:
2 tablespoons extra- virgin olive oil
2 large sweet onions, diced
2 large red bell peppers, cored, seeded & diced
4 small jalapeño peppers, cored, seeded & minced finely
4 medium cloves garlic, minced
1 1/2 pounds ground sirloin
1/4 cup chili powder
2 teaspoons dried basil
1 tablespoon ground cumin
1/4 cup worcestershire sauce
One 28-ounce can chopped tomatoes
2 tablespoons tomato paste
4 cups chicken or beef broth
One 15-ounce can black beans, rinsed and drained
One 15-ounce can kidney beans, rinsed and drained
3 whole bay leaves
1 tablespoon sea salt
1 tablespoon freshly ground black pepper
1 teaspoon crushed red pepper flakes
Directions:
Heat the olive oil in a large saucepan over medium heat. Add the onions, reduce the heat to low and cook, stirring occasionally, until they have softened and become lightly browned (about 15 minutes). Add the bell peppers and jalapeños and cook, stirring occasionally, about 5 minutes longer. Add the garlic and cook, stirring constantly, for about 1 minute, being careful not to let it brown.
Increase the heat to medium-high. Add the ground sirloin, chili powder, basil, and cumin; cook until the beef is brown all over (5 to 7 minutes). Break the beef into small pieces as it cooks. Drain off excess fat. Stir in the worcestershire sauce, tomatoes and their juices, tomato paste, broth, beans, bay leaves, salt, pepper and crushed red pepper; bring to a low boil. Reduce the heat to low; simmer for 45 to 1 hour so that the flavors meld and the liquid reduces a bit and thickens slightly.
Serve warm. Top with shredded cheese and sour cream, if desired.
Tips:
This recipe is gluten-free adaptable- just be sure to use GF brands of broth, beans and worcestershire sauce.
Be sure to wear gloves when you are cutting the jalapenos. If not, you will need to wash your hands thoroughly (several times) to rid your fingers of the "spice."
To drain off excess fat from the meat, I like to tip the pan and let the grease puddle in one spot. Take a bunch of paper towels and let them soak up the fat. Discard paper towels.
This chili will keep in an airtight container for up to 3 days. It also freezes well.
SOURCE
: RecipeGirl.com (Adapted barely from
Fresh Every Day
by Sara Foster)