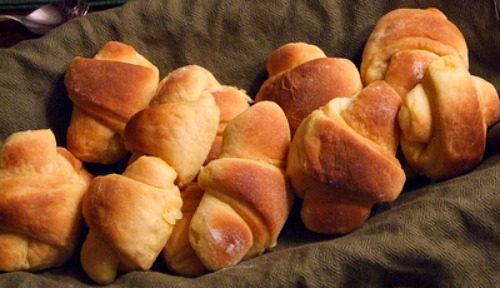 Yield: 3 dozen croissants
Prep Time: 30 min + rising time
Cook Time: 13 min
Sweet Potato Croissants
I made these the morning of Thanksgiving, then heated them up again right before dinner. They were still soft and fresh even a couple of days later so I wouldn't hesitate to make them the day before next time.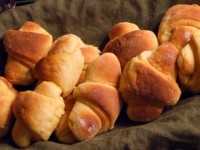 Ingredients:
Two .25- ounce packages active dry yeast
1 cup warm water (110° to 115° F)
One 15-ounce can cut sweet potatoes, drained and mashed
1/2 cup granulated white sugar
1/2 cup shortening
1 large egg
1 1/2 teaspoons salt
5 to 5 1/2 cups all-purpose flour
1/4 cup salted butter, melted
Directions:
1. In a large mixing bowl, dissolve the yeast in water; let stand for 5 minutes until foamy. Beat in the sweet potatoes, sugar, shortening, egg, salt and 3 cups of flour. Add enough remaining flour to form a stiff dough. Turn onto a floured surface; knead until smooth and elastic, about 6 to 8 minutes. Place in a greased bowl, turning once to grease the top. Cover loosely with a clean dishtowel and let rise in a warm place until doubled, about 1 hour.
2. Punch the dough down; divide into thirds. Roll each portion into a 12-inch circle; cut each into 12 wedges. Brush with butter. Roll up from the wide end and place, pointed end down, 2-inches apart on greased baking sheets. Cover and let rise until doubled, about 40 minutes.
3. Preheat oven to 375°F.
4. Bake for 13 to 15 minutes or until golden brown. Remove from pans to wire racks.
Tips:
*If you're searching for a warm place to let your dough rise, turn on your oven to 400 degrees for 1 minute and turn the light on. Turn it OFF after one minute, keep the light on, and place your bowl of dough in the slightly warmed oven. The light will help keep it warm enough to rise. Make sure the oven is turned off!
2 Responses to "Sweet Potato Croissants"
Leave a Comment