This Ricotta and Vegetable Stuffed Pizza Pie begins with a basic pizza dough.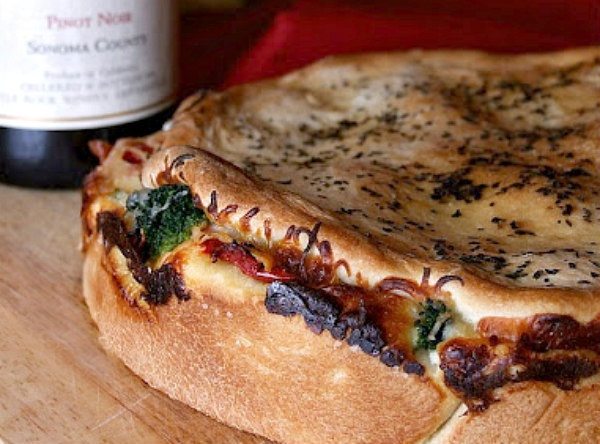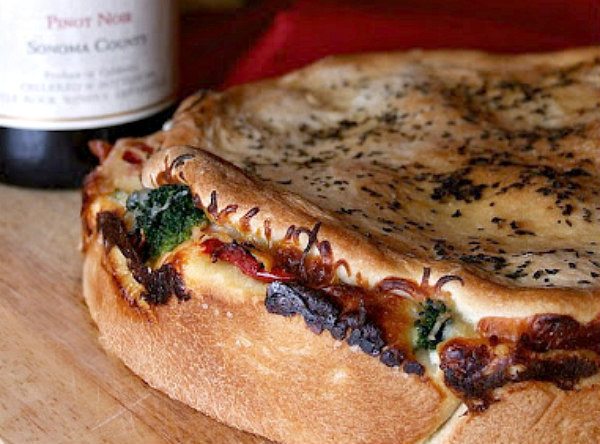 This is such a great dinner recipe.  It's one the whole family will love!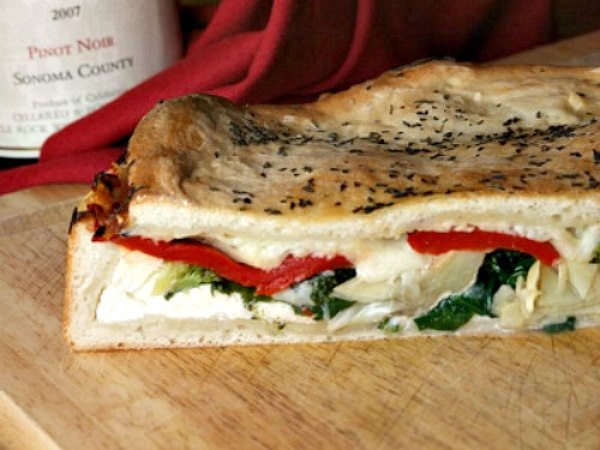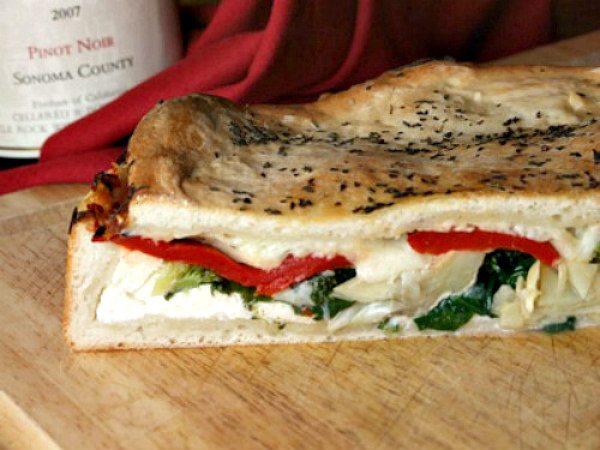 If you're looking for a good, homemade pizza dough recipe, my Basic Pizza Dough recipe is a big time favorite!
Ricotta and Vegetable Stuffed Pizza Pie
Yield:
1 pizza pie!
Prep Time: 30 minutes
Cook Time: 30 minutes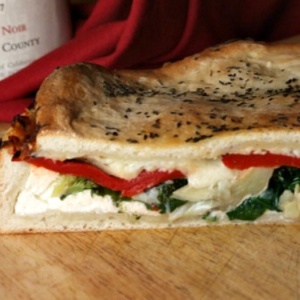 Ingredients:

1 ball fresh pizza dough- divided in half
1 cup ricotta cheese
1/2 cup freshly grated Parmesan cheese
1 tablespoon extra virgin olive oil
1 small clove of garlic, minced
2 cups fresh spinach leaves
2 cups fresh broccoli florets, steamed until fork-tender, about 3 minutes
pinch of salt
1/2 cup roasted red bell peppers (jarred are fine)
1 handful of frozen artichoke hearts (or canned)
1 1/2 cups shredded mozzarella cheese
olive oil
Italian seasoning
bottled marinara sauce or Ranch dressing, if desired

Instructions:

Preheat oven to 375°F. Spray 9-inch springform pan (with removeable bottom) with nonstick spray.
Roll out each piece of pizza dough into 9 or 10-inch rounds. Spread and press one piece of dough into the bottom and sides of the prepared pan.
In a medium bowl, mix together the ricotta and Parmesan cheese until well combined. Carefully spread on top of pizza dough in pan.
Heat the olive oil in nonstick skillet. Add the garlic and stir for about a minute while it sizzles. Add the spinach and stir gently just until wilted. Remove from heat. Place the spinach in an even layer on top of the ricotta. Place the frozen artichoke hearts on top of the spinach (no need to thaw or cook). Scatter the broccoli florets on top of the artichoke heart layer. Sprinkle with kosher salt. Lay strips of roasted red peppers and then scatter a nice layer of mozzarella cheese on top of everything.
Place 2nd rolled out crust on top of the cheese and tuck edges into sides of pan. Brush the top of the dough with olive oil and sprinkle with Italian seasoning.
Bake 25 to 35 minutes or until crust is golden brown and cooked through. Let cool for 10 minutes before removing from pan or cutting into wedges. Serve with a dollop of marinara or Ranch dressing, if desired.

Tips:

If you are unable to find fresh pizza dough at your market, ask your local pizza establishment if they will sell you a fresh ball of dough- they often do!