Three-Bean and Sausage Bake
This dish has been featured in a post on The Recipe Girl blog: Ugly Recipes Need Love Too. This dish is gluten-free adaptable- please see tips below the recipe.
Yield: 6 servings (1 cup per serving)
Prep Time: 15 min
Cook Time: 45 min
Three Bean & Sausage Bake
This isn't the prettiest dish in the world, but it sure was a hit for dinner with my family. I served up a scoop of this on top of some homemade cornbread- delicious!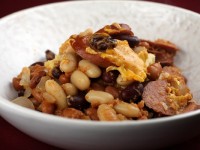 Ingredients:
1 pound turkey kielbasa, sliced
1 onion, finely chopped
2 garlic cloves, minced
1 (15-ounce) can Great Northern beans, rinsed & drained
1 (15-ounce) can low-sodium pinto beans, rinsed & drained
1 (15-ounce) can low-sodium red kidney beans, rinsed & drained
1 cup water
1/2 cup ketchup
2 Tablespoons spicy brown mustard
1 Tablespoon cider vinegar
1 Tablespoon packed brown sugar
1/2 cup low fat shredded Cheddar Cheese
Directions:
1. Preheat oven to 350 degrees F. Spray 9x13-inch baking dish with nonstick spray.
2. Spray a large nonstick skillet with nonstick spray. Heat over medium high. Add kielbasa and cook, stirring occasionally, until browned, 3-4 minutes. Add the onion and garlic; reduce heat and cook, stirring occasionally, until the onion is softened, about 4 minutes. Add all beans, water, ketchup, mustard, vinegar, and brown sugar; cook, stirring occasionally, until the flavors are blended, about 5 minutes. Pour the bean mixture into the baking dish.
3. Sprinkle the bean mixture with the cheese. Bake the casserole until bubbling in the center, 35 to 40 minutes. Let stand about 5 minutes before serving.
Tips:
*If preparing this as a GLUTEN FREE dish, be sure to check the following ingredients to make sure they are gluten free: kielbasa, ketchup & spicy brown mustard. Serve on top of some Gluten Free cornbread!
*Make ahead: Prepare through step 2, then let cool completely. Wrap well and freeze for up to 1 month. Thaw in refrigerator overnight. Unwrap and continue on to step 3 to cook.
Nutritional Information per serving:
Serving size: 1 cup
Calories per serving: 364
Fat per serving: 8g
Saturated Fat per serving: 2g
Fiber per serving: 11g
Protein per serving: 27g
Cholesterol per serving: 41mg
Carbohydrates per serving: 46g
WW POINTS per serving:
Points Plus Program: 9 Old Points Program: 7
4 Responses to "Three-Bean and Sausage Bake"
Leave a Comment